By Edu Punay (The Philippine Star) |
MANILA, Philippines - With his credibility in question due to what senators said were inconsistencies in his testimony last Thursday, Technology Resource Center (TRC) outgoing head Dennis Cunanan may lose his bid to be state witness in the pork barrel cases.
>>
Justice Secretary Leila de Lima yesterday said Cunanan's persistent denial during Thursday's Senate hearing that he received P960,000 in kickbacks from pork barrel-funded projects could adversely affect his status as "provisional" state witness.
>>
In the same hearing conducted by the Senate Blue Ribbon committee, Benhur Luy – the main whistle-blower in the pork barrel scam – insisted Cunanan had received kickbacks, but admitted not having seen the actual payoff.
>
"His (Cunanan's) status in the WPP (witness protection program) will definitely be affected because of Benhur's statement about (kickbacks)… Because of the development yesterday (Thursday) in the hearing, it's also time for us to consider (his credibility)," De Lima told reporters in an ambush interview yesterday.
>
She said conflicting statements of Luy and Cunanan have "complicated" the situation. But she stressed the Department of Justice (DOJ) is standing by the credibility of Luy.
"He remains to be a very credible witness. Benhur has not given us reason or indication to doubt his credibility; his credibility and the credibility of his story about the whole PDAF scam," she said. PDAF or the Priority Development Assistance Fund is the official term for the congressional pork barrel.
The DOJ chief said Cunanan would be asked to "rectify" his statement.
"We are actually giving him a chance to explain or rectify himself on that matter. Will he continue to profess such innocence when it comes to the issue of whether or not he received kickbacks? Let's just see what his answer will be so that we can act accordingly," she said.
When asked if the credibility of Cunanan as a witness is beyond repair, De Lima replied: "It's up to you to interpret what I said, but it's unfair for me to say something categorical at this point."
De Lima recalled that Cunanan, while being interviewed for WPP coverage, had consistently denied pocketing kickbacks from the PDAF scam allegedly masterminded by businesswoman Janet Lim-Napoles.
She said Sen. Grace Poe could be correct in her suspicion that Cunanan was afraid to make the admission because he was about to take a position in an international organization.
"That is a probable reason. But we ask him to tell the truth on this matter because we still believe he is telling the truth when it comes to what he knows about the scam," the DOJ chief said.
No immunity yet
At the Senate, Blue Ribbon committee chairman Sen. Teofisto Guingona III said Cunanan's application for legislative immunity needs further study, since such privilege "is under the rules or law of the witness protection program and subject to the approval of the Senate president."
Aside from allegations that he had received PDAF kickbacks, Cunanan's checkered educational background had also cast doubt on his credibility.
Luy on Thursday also debunked Cunanan's claims that he had never met Napoles. Luy said Cunanan went to the JLN Corp.'s office in Ortigas to receive supposed kickback contained in a brown bag.
It was Evelyn de Leon, also one of Napoles' employees, who handed the bag to Cunanan. Luy said that while he did not actually see Cunanan receive the money, he saw the TRC official leaving the office carrying the bag supposedly containing the P960,000.
At the start of the hearing last Thursday, Cunanan asked the committee to grant him legislative immunity. If given immunity his testimony cannot be used against him in courts. He will also be protected from libel and perjury charges, Senate lawyers said.
Cunanan admitted during the hearing that he is facing two plunder complaints in relation to the pork barrel controversy. A third plunder complaint was reportedly dismissed.
Under Republic Act No. 6981 or "The Witness Protection, Security and Benefit Act," a witness granted legislative immunity can enjoy the benefits under the WPP law.
Guingona declined to say what he felt about Cunanan's Senate testimony, saying he'd "rather leave it to the Department of Justice to thresh out all the inconsistencies that were pointed out by the other senators."
Guingona also said he does not see any reason to again summon Napoles to the Senate.
"Until we know that she is willing to talk for certain, we won't call her, because we will just get more of the same," he said. "So until there is a positive declaration from Secretary De Lima, or from the ombudsman, then that is the only time."
Irrelevant
For Malacañang, inconsistencies in Luy's and Cunanan's statements during last Thursday's hearing were irrelevant since it's the courts which would ultimately evaluate and decide on their testimony.
"In the first place, they don't have to be completely in agreement – the testimony of the two," deputy presidential spokesperson Abigail Valte said in Filipino.
Valte pointed out that their having different versions of the story simply means "witness A will be testifying to another aspect of the case while witness B will be testifying on another completely different aspect of the same case."
She said the DOJ, the Office of the Ombudsman and the Sandiganbayan are in the best position to determine who between the two is credible.
"That being said, the final arbiter is the court which will hear the case once it is filed by the Office of the Ombudsman," Valte, a lawyer by profession, told a news briefing.
She also emphasized that investigators have gathered "documentary evidence" – aside from testimonies – to build a strong case against those involved in the pork barrel scam.
"The document trail has been properly laid out," she said.
Commission on Audit (COA) Chairman Ma. Gracia Pulido-Tan, for her part, clarified that they were taking implementing agencies to task not for kickbacks but for collecting commissions or management fees.
She was reacting to Cunanan's assertion that implementing agencies should not be blamed for the pork barrel fund scam.
In an interview with reporters after the launching of the audit institution's new website yesterday, she said the special audit on PDAF releases of senators and congressmen from 2007 to 2009 did not accuse conduit agencies of pocketing kickbacks.
"You can go back to our report again and I can confidently say that we have no finding at all that they were receiving kickbacks," Tan explained.
"Our finding, insofar as the COA is concerned, why did they collect commission? They didn't do anything in terms of monitoring the projects because as it turned out, the monitoring – per all the documents that we found – was (done by) the offices of the concerned legislators," she said.
"What we found out is that there was very little effort if at all on the part of the implementing agencies to really do monitoring," she said.
She stressed that under the law, agencies like the TRC are allowed to find their own sources of revenue, but that it is not that authority that is in question but the collection of management fee.
She said implementing agencies have been reduced to being conduits of funds.
Credible witness
Despite questions on his credibility, Cunanan is a credible witness as far as his knowledge of lawmakers' participation in the PDAF scam is concerned, but as a state witness, he needs to do more to prove his worth, Sen. Francis Escudero said yesterday.
Escudero said that Cunanan was able to provide the DOJ with information disproving the claims of Senators Ramon Revilla Jr., Juan Ponce Enrile and Jinggoy Estrada that they had no hand in choosing which NGOs to implement their PDAF-funded projects.
The three senators, along with more than 30 others, are respondents in the plunder and malversation complaint in connection with the pork barrel scam. Cunanan is also a respondent in the complaint.
He also testified that the senators were the ones who handpicked the NGOs of Napoles to implement their projects.
"But the truth is that this could already be proven through the documents. They were all the same, including the typographical errors," Escudero said.
The documents include letters sent by the three senators to the TRC, informing the agency of their choice of NGOs.
He said Luy's allegation that Cunanan himself had received kickbacks would have impact on the latter's credibility.
"In my personal opinion, this will affect the testimony of Dennis Cunanan but not the testimony of Benhur Luy because the testimony of Benhur Luy has been consistent and stable," Escudero said.
He scored the DOJ for failing to anticipate inconsistencies in the testimonies of the two. "Why didn't the DOJ see this? So I asked Secretary De Lima, why did you charge him? Actually, I already knew the answer and it was because Benhur said that he received (commissions)," Escudero said in Filipino.
Sen. Aquilino Pimentel III also called on the DOJ to resolve the problem as soon as possible.
"So isn't it a funny situation where there are two witnesses who are both truthful and yet one alleging that one thing happened and the other 'truthful' witness denying that same thing entirely. Let the secretary of justice sort this out," he said.
Crumbling case
For Estrada, the development showed the case against them is crumbling.
Estrada said Cunanan was lying through his teeth when the TRC official claimed being pressured by the senator over the phone into facilitating the approval of projects.
"They are starting to crumble. They can't agree among themselves," Estrada said.
Revilla, through his lawyer Joel Bodegon, also accused Cunanan of lying. – With Christina Mendez, Marvin Sy, Michael Punongbayan, Delon Porcalla
By MARK MERUEÑAS, GMA News
Another suspect has distanced himself from the mauling of actor-TV host Vhong Navarro.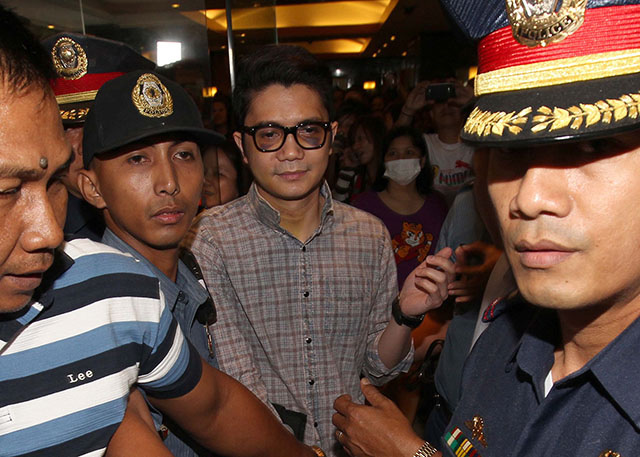 >>
In his counter-affidavit, Sajed Fernandez Abuhiljeh described his inclusion as a respondent in the criminal complaint filed by Navarro as a "malicious afterthought done to lend credence to his weak claim of conspiracy."
>>
Navarro has named Fernandez, Deniece Cornejo, Cedric Lee and several others respondents in a criminal complaint he filed in connection with the mauling incident. The charges include illegal detention, serious physical injuries, grave threats, grave coercion, illegal arrest, and blackmail.
Navarro was attacked by Lee's group on the night of January 22 at Cornejo's condominium unit in Taguig City.
>
Fernandez said Lee, a friend of Cornejo's, had called him up on the night of incident, asking him to come over to Forbeswood Heights in Taguig City because Cornejo was allegedly being harassed.
>
Fernandez said upon arriving at the unit, he was shocked to see Navarro being beaten up, with Lee cursing and calling the TV host-actor a rapist.
"From what I was gathering at that time, Cedric chanced upon the complainant raping Deniece and beat him up to protect her," said Fernandez. "Based on the scene before me, I had and still have difficulty concluding what had really happened that night."
Never laid a hand on Navarro
Fernandez also said: "What I am certain about is that I never laid a hand on the complainant nor was I part of any plan to inflict harm on his person."
He said he interfered by telling Lee to stop beating up Navarro and instead bring him to a police station. He said at that point, he still has not spoken with Navarro.
"At the police station, I genuinely felt sorry for the complainant. I really tried my best to alleviate the agony he was evidently experiencing by affording him comfort through whatever means possible given the situation," he said.
Fernandez said he even asked a policeman to give Navarro a glass of water and to remove the duct tape on his wrists. He also claimed requesting the police to allow Navarro to wash his bloodied face in the sink.
Idolized by kids
Fernandez said he then tried getting Navarro's side of the story by asking him: "Ginawa mo ba talaga yun? Ina-idolize ka pa naman ng mga bata. Marami kang fans. Ginawa mo ba talaga yun?"
"The complainant [Navarro] merely said, 'Sir, sorry po...' I told the complainant, 'wag ka mag-sorry sa 'kin, wala kang ginawa sa 'kin," Fernandez said in his counter-affidavit.
Fernandez said Navarro then turned to face Cornejo and apologized. "Deniece did not say anything and just stared at the complainant," Fernandez recounted.
Fernandez said Navarro then asked him not to leave his side. He said Navarro told him: "Sobrang natatakot po ako... Wag niyo po ako iiwan. Wag niyo po ako iiwan. Natatakot po ako."
"I said to him, 'Sige, wag kang mag-alala, dito lang ako sa tabi mo.' True to my word, I stayed beside the complainant until we left the police station," Fernandez said.
Offer to Vhong
After blotter proceedings, Fernandez said he offered to bring Navarro back to his vehicle and driver at Forbeswood, but the police offered Navarro a ride as well.
"However despite this, he still insisted that I accompany him. He said, 'Sir, wag niyo po ako iwan.' I asked him, 'Kasama mo na yung mga pulis, bakit kelangan pa ako sumama?' Again, he said, 'natatakot po ako.' I acceded to his request," Fernandez said, adding that he and Navarro exchanged mobile phone numbers.
After parting ways, Fernandez claimed to have called up Navarro on his phone, asking him to rest and take pain-relieving medicines. He also told Navarro to see a doctor.
"It again contravenes human experience that a person who had just committed a crime just as the complainant would like this Honorable Panel to believe will volunteer his personal cellphone number to the victim immediately after committing the offense," said Fernandez. — KBK, GMA News
>>
By Camille Diola (philstar.com)
In this November 2013 photo, Vice President Jejomar Binay welcomes boxing champion and Sarangani Rep. Manny Pacquiao upon his arrival in Manila after winning his bout against American fighter Brandon Rios.
>>
PDP-Laban ends coalition with UNA
>
MANILA, Philippines — Boxing superstar and Sarangani Rep. Manny Pacquiao will be part of Vice President Jejomar Binay's lineup of senatorial candidates in the 2016 national elections.
>
Binay said in a press conference Friday that Pacquiao has been in talks to join the political ticket prior to the 2013 midterm elections, according to a radio report.
Binay, who has long expressed his plans to run for president, also said that he is considering either Senator Jinggoy Estrada or Batangas Governor Vilma Santos-Recto as his running mate.
Estrada, meanwhile, is embroiled in the "pork barrel" controversy facing multiple charges of plunder and malversation for allegedly embezzling his Priority Development Assistance Funds through bogus non-government organizations supposedly led by detained businesswoman Janet Lim Napoles.
Earlier this week, Binay had said that he is eyeing telecommunications and mining mogul Manuel V. Pangilinan as his vice president.
>
The country's second top leader said this following his recent resignation as chairman from the Partido Demokratiko Pilipino-Lakas ng Bayan or PDP-Laban. The move was linked to Binay's plans for presidency and impending creation of a new political party for 2016.
>
PDP-Laban, meanwhile, announced Friday that it has cut off its ties with the United Nationalist Alliance led by Binay, Mayor Joseph Estrada and Senator Juan Ponce Enrile.
PDP-Labal spokesman Doy del Castillo said that the party wishes its former chairman well in his plans to pursue the presidency.