By Camille Diola (philstar.com) |
Comedian and television host Vhong Navarro (right) proceeded to the Department of Justice right after he was discharged from confinement on Thursday, January 6, 2013. Justice Secretary Leila de Lima said the bureau is not giving Navarro any special treatment in investigating the case on the January 22 mauling incident when Navarro was assaulted by a group led by businessman Cedric Lee.
MANILA, Philippines - Justice Secretary Leila de Lima has defended the National Bureau of Investigation (NBI), which is being criticized for allegedly giving undue priority to the assault case of TV host Vhong Navarro.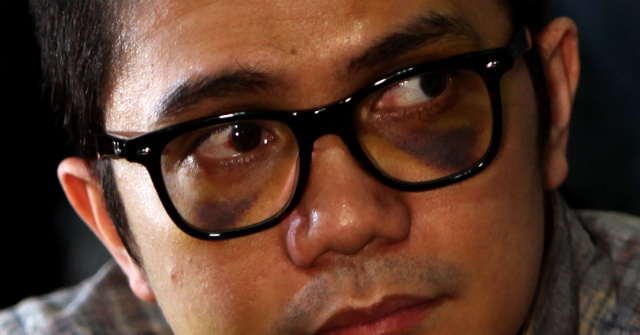 "No special treatment. Ginawa lang naman ng NBI, just one of those cases na inimbistegahan nila. Nagkaroon ng mabilis na resulta," De Lima said Monday night in an interview on ABS-CBN's "Aquino and Abunda Tonight" show.
De Lima admitted, however, that the case is different from the others that the bureau is handling as it involves known personalities.
The NBI has filed six criminal complaints against the group of businessman Cedric Lee and model Deniece Cornejo for the mauling and alleged extortion of Navarro, who is a talent of ABS-CBN. Cornejo, meanwhile, filed a rape complaint against Navarro.
The complaints filed by both camps have been consolidated by the DOJ.
"Yung sinasabing special treatment, hindi po namin kasalanan 'yon na yung kasong ito has elicited so much attention, maybe because of the personalities involved, maybe dahil si Vhong may mga fans siguro or what," De Lima said.
Only a week after the January 22 mauling of Navarro in Cornejo's unit at the Forbeswood Heights in Taguig City, the justice department formed a body of prosecutors to conduct a preliminary investigation on the incident.
Read: DOJ forms Vhong case probe body, issues lookout order vs Deniece, Cedric
The bureau has also released the footages from Forbeswood's security cameras. The recordings show that Cornejo left the building only a few minutes after Navarro arrived.
De Lima said that the investigators believe that the footages were not tampered with.
"So kung sino mang may plano para mag-tamper noon, gawan ng paraan, i-delete or what, ay hindi ho nakagawan ng paraan kasi nakuha kaagad [ng NBI]," she said.